The U.S. District Court, Northern District of Ohio provides HDMI in all District Judge courtrooms throughout the district. Legacy VGA equipped laptops can still be displayed in the courtroom via a connection at the presenter cart only.
To use HDMI digital video, your laptop must have a connector as shown in the image: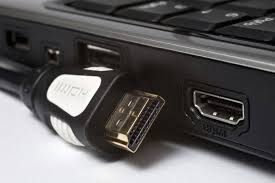 While interface cables at counsel tables are provided, adaptors to various portable devices are not. You must provide your own if your digital interface connector is different to convert that format to HDMI.
Additionally, testing before your scheduled proceeding is highly recommended. Contact chambers to arrange time to test in the courtroom. Ensure your display drivers are up to date.
The U.S. District Court, Northern District of Ohio, is proud to have sixteen electronic courtrooms throughout the district. Our first electronic courtroom was installed in September, 1998 in the Howard M. Metzenbaum courthouse. When it opened, it was touted as the most technologically advanced courtroom in existence. We also have electronic courtrooms in each of our locations in Akron, Toledo and Youngstown.
The streamlining of the litigation process through the implementation of advanced communication technologies has enhanced the Court's ability to meet the needs of the bar and the public, while preserving the dignity and fairness of the proceedings.
Since we are five times as likely to remember something we both see and hear, the audio/visual means of presentation implemented in the courtrooms increases both efficiency and juror comprehension.
Counsel can present photos, documents, objects, videotapes and electronic presentations to focus juror attention on critical details.
The Video Presenter cart serves as the heart of the well-concealed electronics in the courtroom. The system allows the display of exhibits via laptop and document camera.
Some of the advanced technology integrated into the courtrooms includes:
A document camera which can be used to display exhibits such as documents or medium-sized three-dimensional objects
HDMI inputs at counsel tables to display multimedia presentations or images from a portable computer allowing documents, images, etc. to be displayed on any monitor in the courtroom
On-screen drawing and highlighting to emphasize specific details for display throughout the courtroom
Realtime transcription from the court reporter can be directed to monitors at the judge's bench and counsel tables, with prior arrangements with the court reporter
23" flat panel video displays located on each counsel table, on the Judge's bench, the courtroom deputy and court reporter desk, and between each pair of jurors to make visual display efficient
In addition to large flat plasma screens for gallery viewing, infrared listening assistance and translation is available to all participants
Technology-ready counsel tables provide quick-connect capability for portable computer equipment to plug into discreetly concealed ports to access the electronics in the courtroom. The courtroom is augmented by fully integrated video and audio conferencing systems with multiple pan-tilt-zoom cameras.